Dictation Software for Internists
Internal Medicine Dictation Software for Internists
Process, interpret, and convert digital speech into text, as well as store recorded dictations with our internal medicine dictation software in real-time. Reduce time in clinical documentation and provide preventive medicine and care with faster documentation.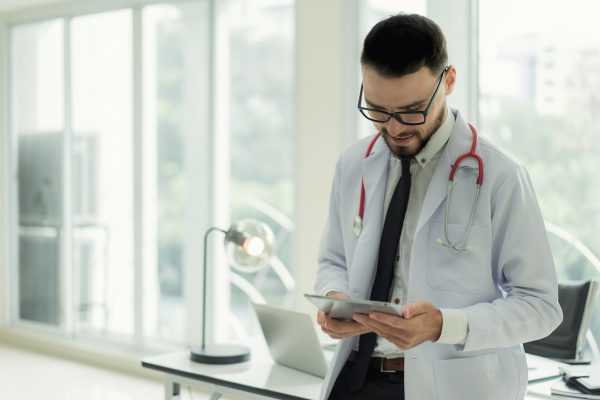 INSTANT SPEECH RECOGNITION
Use speech-to-text recognition technology right within the EHR. Display texts instantly on Word or in the patients' chart.
HANDS-FREE TRANSCRIPTION
Get access to accurate and quick speech-to-text transcription in real-time. Add punctuation marks and formatting to create documentation through dictation.
HIGH SECURITY
VocieboxMD is HIPAA compliant by employing secure encryption methods throughout the workflow.
SECURE DATA
Our internal medicine dictation software stores the translated text in the system locally and thus no data is uploaded or shared anywhere.
INTERNAL MEDICINE VOCABULARY
Use advanced medical vocabulary to understand all medical terms and cover almost all subspecialties of internal medicine.
WORKFLOW OPTIMIZATION
Optimize your workflow by instantly scanning documents, reviewing patient's profiles, automating data, and much more.
Made for all subspecialties of Internal Medicine
Allergy and Immunology
Cardiovascular Disease
Endocrinology
Gastroenterology
Hematology
Infectious Disease
Nephrology
Oncology
Pulmonary Disease
Rheumatology
Diabetes
Metabolism
ENHANCE THE CHARTING EXPERIENCE BY EMPLOYING SPEECH-TO-TEXT SOFTWARE BUILT SPECIFICALLY FOR INTERNAL MEDICINE CHARTING
Helping Internists with Dictation and Charting
Generally, internists aren't limited to just one type of medical problem or task. Their responsibility actually demands a wide range of tasks that help them assist affected patients in their treatment. To identify the right procedure or the drug for diagnosis, internists require accurate information of the patient, which is gathered by his/her periodic visits. That's where VoiceboxMD's Dictation Software can be used to ease the life of internists.
Create internal medicine transcriptions without facing any hassle through our speech dictation software
Try for free