QuickSOAP Mobile EHR and Telemedicine App
Boost your clinical documentation on the go by capturing SOAP notes directly from your iOS or Android device. Get one on one interaction with patients using secure HIPAA compliant Telemedicine app.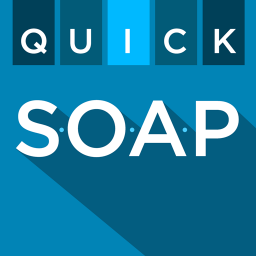 Features
Mobile EHR features designed to help you get the documentation done faster on the go.
Cloud Ready
QuickSOAP runs in cloud. Allows you to build all your notes in one central location. No mater what mobile device you use.
Telemedicine App
State of the art, no download or install required for your patients. Start video conferencing your patients from the app. Patients do not need to install any app or software.
Telemedicine from anywhere
With a simple shareable link, video conference with your patients, log entry into your patient videos with correct timestamp.
Templates
Create templates for each Subjective, Objective, Assessment and Plan portion of the notes to boost your productivity.
Audio clips
Take audio clips of the notes whenever possible to build a complete picture of the patient story.
Scheduler
A quick view provides schedule overview of your practice. See whats upcoming and past appointments with ease.
Easiest way to capture patient notes and video conferencing.
QuickSOAP is designed to help you quickly capture patient notes from your mobile phone with ease of use in mind. All data securely captured and stored in HIPAA compliant security cloud infrastructure.
Frequently asked questions
if you cannot find the answer below, please use the contact form or send us an email.